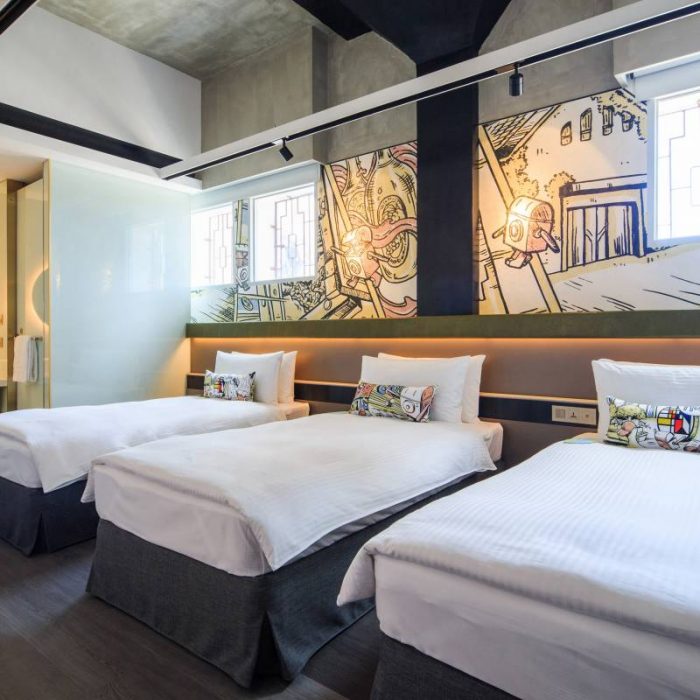 As you enter the lobby of Hua Shan Din by Cosmos Creation, you will first notice the large round columns with funnel tops. Slab and column concrete was a popular architectural style in the U.S. after WWII. The hotel was originally built as a bank warehouse, and several architectural details were preserved during renovation, including the double iron window grilles, the in-wall vents, the bank vault door, the metal door, etc. These unique elements were re-imagined in guest rooms and in the hotel's public areas to showcase the unique charm of Hua Shan Din.
The furniture arrangement of the Superior Triple rooms are inspired by the elements of the Chinese characters "Hua Shan Din", coupled with special design elements from its banking history, such as the bank vault door handle, the exclusive design gold mug and the checkbook notepad. These room types are fitted with 3 standalone single beds, perfect for family vacation or small group travel with good friends.
Bed Type: 3 single beds
Room size: 7 Ping
Room rate: NT$8,500
Guest room amenities:


Exclusive design mugs


Traditional Taiwanese welcome snacks


42-inch LED TV


Complimentary Ethernet/Wi-Fi broadband internet service


Adjustable central air


A variety of domestic and international TV channels


Multi-purpose electrical outlet


Complimentary bottled mineral water


Self service coffee, tea and hot water maker


Toiletry set, hair dryer, in-room electric safe


Separate shower stall in bathroom


TOTO toilet


*The above room rate is subject to a 10% service charge.
*Check-in at 3 p.m. and check-out at 12 p.m.